Now that we're over a quarter of the way through the season, predictions as to where teams will finish in the standings, how individual player statistics will finish, and the distribution of player awards handed out next summer begin appearing more and more frequently.
Of those awarded each year, the The Calder Trophy is one of the most exciting. The Calder Trophy is awarded each year to the "Rookie of the Year". This year's early Calder favourite is Nashville's Filip Forsberg. His 23 points (10 G, 13 A) in 22 games played are 7 better than next-best Johnny Gaudreau (3 G, 12 A; 23 GP), and he leads all rookies in both goals and assists. NHL.com currently ranks Forsberg ahead of Gaudreau and Aaron Ekblad for this year's Calder trophy.
At this time last year Mike Johnson for NHL.com had Torey Krug, Tomas Hertl, and Sean Monahan as his players to watch for the Calder trophy.
With only 3 NHL regular season games under his belt at the end of the 2012-13 regular season, Boston recalled Torey Krug from their AHL affiliate in Providence. The offensive defenceman ended up being a key component of the Bruin's 5-game series win over the New York Rangers in 2013, netting 4 goals and an assist, and earned a permanent spot on their roster moving forward. He only managed 1 point in the Bruins' final 10 playoff games but rebounded with a strong showing in his first full season last year, putting up 40 points in 79 games (14 G, 26 A). After a slow start to this year with no points in his first 5 games, Krug has 7 points in his last 14 games and will likely finish this season with similar numbers to last year.
In San Jose, Tomas Hertl wasted no time making an impact in his new league, scoring 2 goals in his second game and 4 goals in his third game which included a between-the-legs goal. At the age of 19 years and 330 days, he became the fourth youngest player to score 4 goals in a game and the first Shark to do so in nearly 20 years. He had 15 goals and 10 assists going into the 35th game of the year in Los Angeles, but was injured in a knee-on-knee collision with Dustin Brown which kept him out of the line-up for nearly 4 months. He returned to play the final 2 regular season games and playoffs, though his knee hadn't fully recovered, and put up 5 points (2 G, 3 A) in San Jose's first round collapse against Los Angeles. He missed some of training camp this year to allow more time for his knee to recover, and has had a slow start in comparison to last year. With 4 goals and 6 assists through 24 games, Hertl is on pace to finish with fewer goals than last year, though just one big night could change that.
Drafted sixth overall by Calgary in the 2013 NHL Entry Draft, Sean Monahan was immediately part of the Flames' line-up and scored 4 goals and 2 assists in the 5 games before his 19th birthday. He had a good rookie campaign, finishing the year with 34 points (22 G, 12 A) in 75 games. Unfortunately his season ended in April as the Flames missed the playoffs by 14 points. Save for a 6-game pointless streak, Monahan is having a great sophomore season and seems to be improving with every game. He's on pace for over 25 goals and 50 points this year.
Throughout last season, with different injuries and streaks, the Calder rankings changed several times. Some people still ranked the above 3 players near the top, but names like Chris Kreider and Nathan MacKinnon started appearing along with them. At the end of the season, the nominees for the Calder trophy were voted to be: Nathan MacKinnon, Ondrej Palat, and Tyler Johnson, with MacKinnon eventually winning the trophy. MacKinnon's rookie year included 24 goals and 39 assists in 82 games, and featured a 13-games point streak while still an 18 year-old. Having only 3 goals through 20 games is likely a reason MacKinnon wasn't considered an early favourite, but by mid-season he was near the top of everyone's rankings. He looks to follow up with another great season this year, and is on pace for over 60 points through 23 games.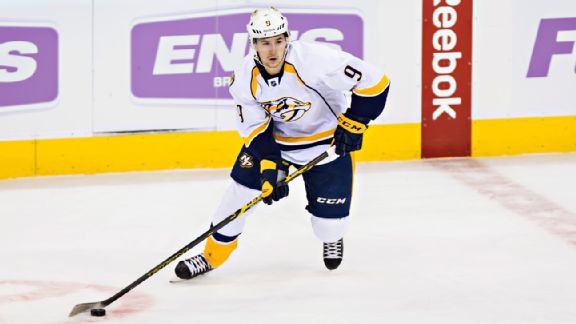 For this year's rookies, injuries and scoreless droughts are just one of many things these young players will have to deal with. Although Forsberg has had a fantastic start, he needs to continue to produce to stay relevant in the Calder discussions, and only time will tell how successful he and this year's other top rookies will be successful in their NHL careers. That being said his fast start has given him a nice cushion between himself and the other candidates, and barring any unforeseen circumstances is definitely my early favourite for this year's Calder trophy.
Cover photo: Ron Chenoy, USA TODAY Sports
---
Like what I have to say? Read my other articles!